Glass Bottle 280ml Bubble Tea With Tapioca Pearls Strawberry Flavor
Rita Bubble's strawberry flavor drink is carefully crafted using real black tea leaves, combined with non-dairy creamer and whole milk powder to create a luxurious, creamy texture. The juicy and irresistible flavor of strawberry blends perfectly with the soft and chewy tapioca pearls to create a one-of-a-kind taste experience that is both satisfying and memorable.
Each sip of this refreshing beverage delivers a burst of fruity flavor and a satisfying chew from the tapioca pearls. The result is an unforgettable taste experience that is sure to please your taste buds and leave you feeling fully satisfied.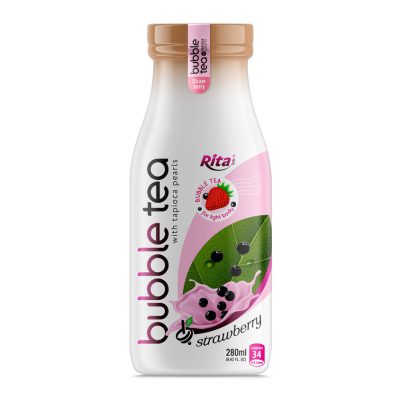 HEALTH BENEFITS
Reduces stress
When you drink milk tea, you'll be less stressed in any given situation as milk itself, decreases tension. Milk tea also contains caffeine that helps to refresh your body and improve your mood.
Improves bone health
Milk has a lot of different components, making it suitable for health. Its calcium content makes the bone stronger that you can do your daily activities efficiently.
Boosts immunity
Black tea is one of the healthiest types of tea base on having lots of antioxidants. Antioxidants help to support overall health and help lower the risk of chronic disease. The presence of polyphenols and antimicrobial properties in black tea are good for the digestive system; polyphenols may also help fight cancer cells.
Aids Nutrition
Milk is one important ingredient for making a cup delicious milk tea. Milk contains calcium, vitamin D, protein, vitamin B12, and potassium, etc. which are good for your body in several ways.
Boosts energy
Base on having sugar and caffeine, milk tea can provide a major boost in energy. While you don't want to overdo this beverage, given its high calorie and sugar count, a healthier version with less sugar could still provide a kick start to your metabolism.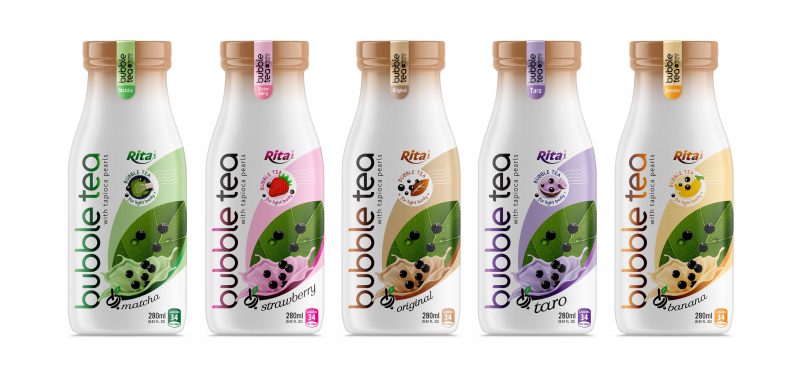 WORKING WITH US
Established in 2004, RITA Food & Drink Co., Ltd is one of the energy drink manufacturers. With 100% foreign invested capital, factory scale of 30.000 m2, 100 cooperative farms and more than 500 employees, each year we supply more than 30.000 tons of products to the market. Besides Vietnamese market, RITA Food & Drink Co., Ltd has been exported to more than 100 countries and regions worldwide. If your company is in need of cooperation with private label energy drink manufacturers, RITA will be your great partner with diverse products, quality, competitive prices.

THE ADVANTAGES OF RITA
+Many kinds of products such as coconut water, coconut milk, aloe vera drink, fruit juice drink, coffee drink,  tea drink, seed drink, etc.
+ Products and production lines get international standards including ISO, HALAL, HACCP, GMP, KOSHER, etc.
+ Products are created from natural-real ingredients; not from concentrate. Abundant tropical fruit resources in Vietnam
+ Provide OEM and ODM service
+ Cost effective and competitive, good for distribution in customer's market
+ Various products types are available, flexible in customizing ingredients
+ Low MOQ of products and fast delivery
+ Complete system from design and samples productions
+ Experienced manufacturer and exporter, familiar with the regulations on exporting all over the world.
+ Products are rich in beneficial nutrients including vitamins, fiber, taurine, etc.
+ Products are good for health; including enhancing immunity, boosting energy, improving the skin's health, supporting digestion, etc.