BUBBLE TEA WITH TAPIOCA PEARLS MATCHA FLAVOR 280ML GLASS BOTTLE
Rita Matcha Flavor Bubble Tea With Tapioca Pearls is made from real black tea leaves, non-dairy creamer, whole milk powder to create a moment of delicious sip with 100% refreshment. We also add tapioca pearls and matcha flavor to make the enjoyment more attractive. It tastes thick, creamy, smooth and delicious, so it's a great choice for a person who enjoys savoring the afternoon tea. And anytime you want, off course!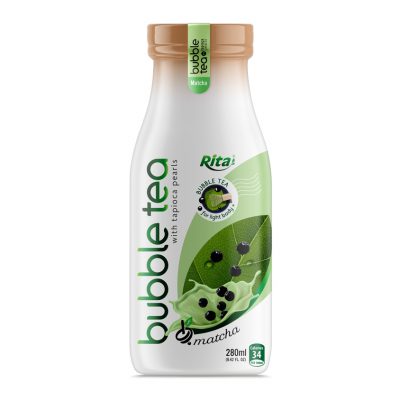 HEALTH BENEFITS
Reduces stress
When you drink milk tea, you'll be less stressed in any given situation as milk itself, decreases tension. Milk tea also contains caffeine that helps to refresh your body and improve your mood.
Improves bone health
Milk has a lot of different components, making it suitable for health. Its calcium content makes the bone stronger that you can do your daily activities efficiently.
Boosts immunity
Black tea is one of the healthiest types of tea base on having lots of antioxidants. Antioxidants help to support overall health and help lower the risk of chronic disease. The presence of polyphenols and antimicrobial properties in black tea are good for the digestive system; polyphenols may also help fight cancer cells.
Aids Nutrition
Milk is one important ingredient for making a cup delicious milk tea. Milk contains calcium, vitamin D, protein, vitamin B12, and potassium, etc. which are good for your body in several ways.
Boosts energy
Base on having sugar and caffeine, milk tea can provide a major boost in energy. While you don't want to overdo this beverage, given its high calorie and sugar count, a healthier version with less sugar could still provide a kick start to your metabolism.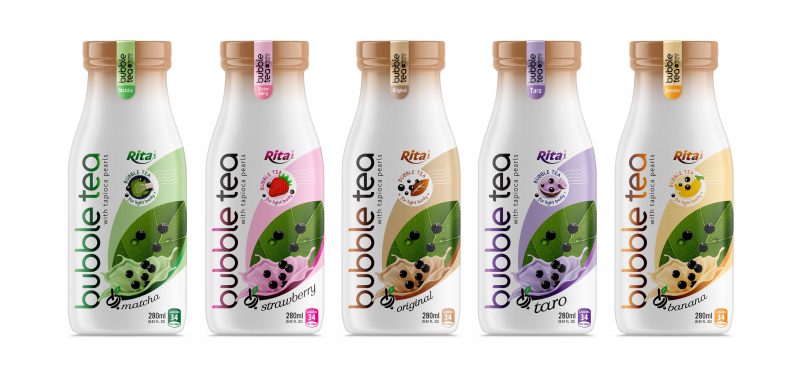 ALL BEVERAGE NATURAL FROM VIETNAM
We are Rita Food & Drink Co., Ltd. We bring you the fresh, healthy, Nutritional juice drink by applying creativity and innovation to natures bounty, since we are in the tropical region of Viet Nam. We produce 100% fresh fruit juice and are therefore healthier and more natural.We can supply varies type of drinks (OEM/ODM) such as:
Fruit Juice : Peach juice, Grape juice, Orange juice, Mango juice, Watermelon juice, Apple juice, Blueberry juice, Strawberry juice …
Energy Drink : Red bull,Monster ,Energy drink with fruit juice , Energy drink with coffee , Energy drink with CO2, Vitamin C …
Coconut Water : Coconut with fruit juice, Coconut with milk, Coconut water pure, Coconut have Carbonated …
SoftDrink : Carbonated drink, Vitamin drink, Sport drink …
Aloe Vera Juice : Aloe Vera with fruit juice , Aloe Vera with milk , Aloe Vera have Carbonated …
Chia Seed , Basil Seed : Chia seed, Basil seed with fruit juice, Chia seed, Basil seed with aloe vera, Chia seed, Basil seed with milk…
Milk : Cashew milk, Milk with fruit juice,Walnut Milk , Coffee milk …
Tea Drinks : Honey tea, Tea with fruit juice , Kombucha tea, Ginger tea …
Coffee : Coffee latter, Coffee Cappuccino, Coffee mocha,Coffee caramel , Coffee with fruit juice , Coffee milk …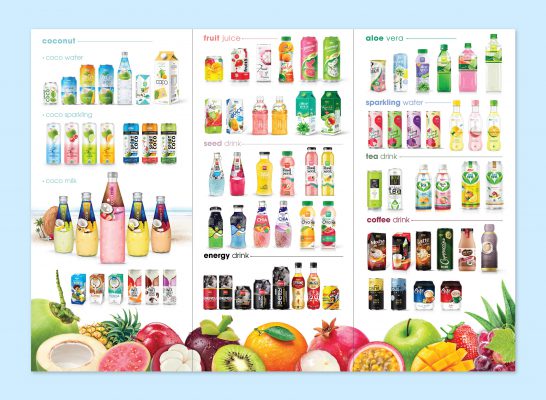 DISTRIBUTED ALL OVER THE WORLD:
With the comprehensive understanding in various ranges of Vietnam products and long-time experience in import-export sector, with our enthusiastic, determined team, we are proud to say that we have been shipping many Order to the USA, Canada, Europe, India , Pacific Island, Hong Kong, China , Singapore, Malaysia, Korea, Japan, Africa … Our customers are worldwide Dealer distribution, shops, restaurants , supermarkets …