FEATURE
Rita Banana Milk is made with ripe bananas, so you get all the health benefits of this fragrant tropical fruit. One of them is the benefit of potassium, which helps to prevent muscle cramping and maintain proper conduction of your heart, etc.
Rita Banana Milk is packed in a can that will be easy to carry and brew, can be enjoyed anytime, anywhere, and can quickly replenish nutrition. It would be an ideal drink choice for individuals who prioritize their health.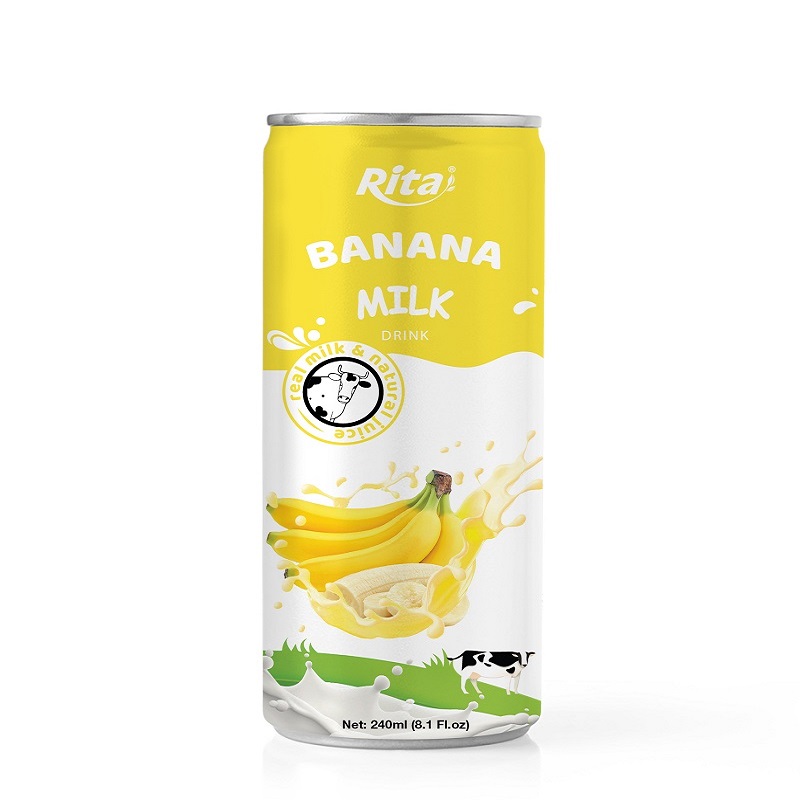 HEALTH BENEFITS
1. Improves heart health
Bananas provide a significant supply of potassium, an essential mineral electrolyte that aids in transmitting electrical signals throughout your body. This vital electrolyte is necessary for sustaining a regular heart rhythm. The elevated potassium levels and reduced sodium content in bananas serve as a protective measure to support your cardiovascular system in preventing high blood pressure.
2. Improves your mood
Due to their abundant tryptophan content, which is converted by the body into serotonin, a neurotransmitter known for enhancing mood, bananas could potentially uplift your spirits. Additionally, bananas contain vitamin B6, which may contribute to promoting restful sleep.
3. Helps manage diabetes
Banana contains the pectin that aids in improving glucose tolerance in people with diabetes. It also has dietary fiber, which benefits both type-1 and type-2 diabetics.
4. Strengthens bones
Bananas aid in enhancing the absorption of calcium, which is the critical element for producing and regenerating bone tissue in the body. This also contributes to the prevention of osteoporosis.
5. Improves Vision
Similar to numerous other fruits, bananas are rich in antioxidants, carotenoids, and a beneficial array of minerals that have the potential to significantly enhance the well-being of your eyes.
6. Acts as antioxidants
Banana antioxidants aid in improving the immune status of cells in the body by increasing T cell reproduction, the phagocytic function of macrophages, and increasing antibody levels in the body.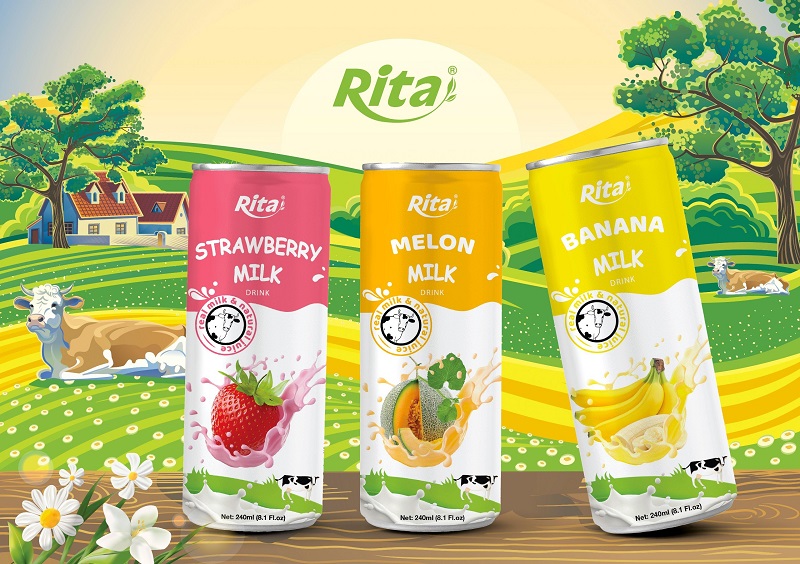 RITA Food & Drink Co., Ltd has been in the business of manufacturing energy drinks since 2004. As a company with 100% foreign invested capital, we operate from a factory that spans 30,000 square meters and employ over 500 staff. In partnership with 100 cooperative farms, we produce and supply over 30,000 tons of products annually to meet the demands of the market. Our reach extends beyond Vietnam, as we export our products to over 100 countries and regions around the world. Whether you are in search of private label energy drink manufacturers for your company, RITA is the perfect choice for you. We offer a wide variety of high-quality products at competitive prices, making us a valuable partner for your business.

+ Fruit Juice: Orange juice, Mango juice, Peach juice, Grape juice, Watermelon juice, Strawberry juice, Apple juice, Blueberry juice, etc.
+ Energy Drink: Energy drink with fruit juice, Energy drink with CO2, Energy drink with coffee, etc.
+ Coconut Water: Carbonated Coconut, Coconut with fruit juice, Coconut with milk, Pure coconut water, etc.
+  Soft Drink: Carbonated drink, Vitamin drink, Sport drink …
+ Aloe Vera Juice: Aloe Vera with fruit juice, Aloe Vera with milk, Carbonated Aloe Vera, Aloe Vera with pulp, etc.
+ Seed Drink:  Basil seed with fruit juice, Basil seed with aloe vera, Basil seed with milk, Chia seed, Chia seed, Chia seed, etc.
+ Milk: Cashew milk, Soy milk, Walnut Milk, Almonds milk, Oat milk, Rice milk, etc.