SOURSOP JUICE – THE TASTE OF SUPERFRUIT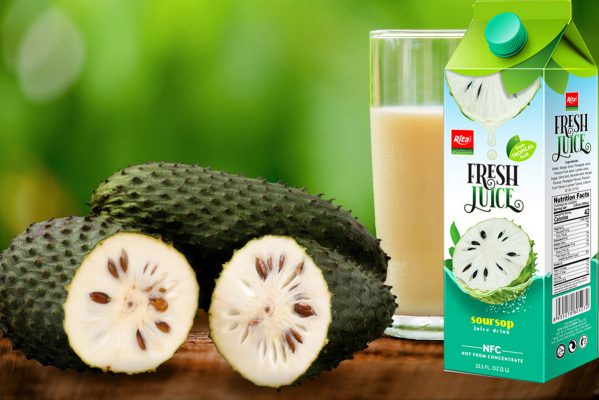 Soursop has a "tutti-frutti flavor" which means the flavor of the fruit has been described as a combination of strawberries and apple with sour citrus flavor. Soursop is not only delicious but also healthy. That is the great reason why soursop is known as a super fruit for a long time.
We further differentiate from other soursop juices by using high-quality fruits from a local orchard. With modern manufacturing and quality control systems from our factory, soursop is blended with other ingredients to provide you with a delicious drink that has maximum health benefits.
Rita Soursop Juice Drink – a refreshing tropical juice – quenches your thirst and leaves you with an extraordinary moment of enjoyment.
HEALTH BENEFITS
Soursop juice is high in fiber, vitamin C, antioxidants and low in calories. This delicious fruit has a variety of health benefits such as effective in preventing cell damage and lowering the risk of chronic disease. Soursop has antibacterial properties, anti-inflammatory effects, and helps lower blood sugar.
Helps Kill Cancer Cells
With many antioxidant properties—specifically from its alkaloids and quinolones, soursop is known for their ability to reduce the size of tumors, essentially reducing the effects of cancer.
Boosts Immunity
Drinking soursop juice daily can positively impact your overall health. Because of the high vitamin C levels, soursop can stimulate the production of white blood cells, while the concentration of antioxidants helps to neutralize free radicals and prevent chronic disease.
Helps Stabilize Blood Sugar Levels
The results of scientific studies suggest soursop may help people regulate their blood sugar if they have diabetes. The study found that soursop significantly reduced blood glucose levels with diabetes.
Lowers Bad Cholesterol
Soursop juice is known for helping lower bad cholesterol levels. An increase in bad cholesterol levels can lead to several serious problems like cardiovascular diseases. Every year, 610,000 people die in the United States due to heart problems.
Improves Eye Health
Soursop is rich in antioxidants, especially vitamins C and E, zinc, and beta-carotene, which have been found to decrease the risk of eye disease. The antioxidants also reduce oxidative stress, which can otherwise cause cataracts and age-related macular degeneration