TROPICAL MIXED FRUIT JUICE – A JOURNEY TO THE TROPICAL REGION
FEATURE
Our Rita Tropical Mixed Fruit Juice is made from mango juice, passion fruit juice and pineapple juice to create a pure, delicious and delightful tasting.
Rita Tropical Mixed Fruit Juice is produced by using NON GMO ingredients and no added sugar to ensure that each product is friendly with your body.
The real fruit we use are coming from Vietnam farms directly to you. So even if you have never been to Vietnam, you've kind of been there.
Mango juice contains many vital minerals and vitamins that are essential for a healthy human body.
Pineapple juice is a powerhouse of vitamin C, beta carotene, potassium, iron and many other nutrients which help in fighting infections, as well as maintaining overall well-being of the body.
Passion fruit juice is a good source of fiber, antioxidant, and plant compounds that could benefit your health.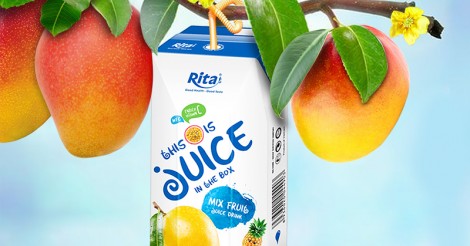 HEALTH BENEFITS
Detoxifies Your Body
Having a glass of fresh juice every morning helps in detoxifying your body. Fruit juice contains all the enzymes, minerals and vitamins that are easily absorbed in your body. The regular intake of fruit juice keeps you away from ailments.
Promotes Weight Loss
You can start by drinking fruit juice every morning to see the difference in your weight. Fruit juices detoxify your body and naturally flush out the toxins from your body which results in weight loss.
Acts as natural antioxidants
Antioxidants help protect your body from free radical damage caused by environmental factors such as certain chemicals, radiation, smoking, and pollution. Antioxidant-rich juice is good for your heart, and they lower your risk of cancers and other diseases.
Boosts immune system
Mix fruit juice can help support a strong immune system by providing a variety of vitamins and nutrients. Mango, passion fruit and pineapple are rich in vitamin C which helps you fight off sickness, viruses, and flu, etc.
Improves vision
Yellow, orange colored fruits like pineapple, mango, passion fruit are rich sources of vitamin A. Vitamin A keeps our eyes healthy and prevents the eye problems, dry eyes and night blindness.
Improves skin health
Most fruits contain fiber, antioxidants, vitamin C and other essential nutrients that help flush out the toxins that affect your skin health. They also help to combat free radicals and prevents premature aging.