MILK TEA DRINK – A PERFECT COMBINATION OF TWO AMAZING DRINKS
If you like tea, you will drink it for pleasure and health benefits. One day, you want to enjoy tea in another from, milk tea will be an interesting choice for you. With the perfect combination of two amazing drinks, milk tea is not only a delightful beverage but also a lifestyle in many countries and regions.
Rita Milk Tea is made from real black tea leaves, milk and milk cream to create a moment of the delicious sip with 100% refreshment. It tastes thick, creamy, smooth and delicious, so it's a great choice for a person who enjoys savoring the afternoon tea. And anytime you want, of course!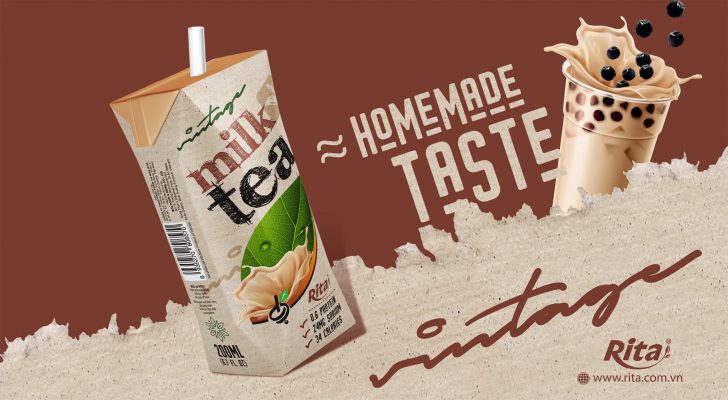 milk tea drink
Our milk tea is packed in a can or bottle to ensure that it will be easy carrying and brewing, can be enjoyed anytime, anywhere, and quickly replenish nutrition.
Milk tea, like many other beverages, has both potential benefits and drawbacks. Here are some of the potential benefits of milk tea:
May provide hydration: Milk tea contains water, which is essential for keeping the body hydrated.
May provide energy: Milk tea often contains caffeine, which can help to boost energy levels and improve alertness.
May provide antioxidants: Black and green tea, which are commonly used to make milk tea, contain antioxidants that may help to protect the body against oxidative stress and reduce the risk of chronic diseases.
May aid digestion: Milk tea often contains milk, which is a good source of calcium and may help to support healthy digestion.
May improve bone health: Milk tea may help to support bone health due to its calcium content.
However, it's important to note that milk tea can also be high in sugar and calories, especially if sweetened with syrups or condensed milk. Excessive consumption of milk tea may lead to weight gain and increased risk of chronic diseases such as diabetes and heart disease.
To enjoy the potential benefits of milk tea while minimizing the drawbacks, it's recommended to consume it in moderation and choose options with lower sugar and calorie content.