FEATURE
When soaked in water and ingested, basil seeds have a wealth of nutritional information. Antioxidant, anticancer, antiviral, antibacterial, antispasmodic, and antifungal effects are all well-known for these seeds.
One of the most attractive fruits is the strawberry, which has vivid red skin and a sweet, tangy, and juicy flavor. Strawberries are a super-fruit with many health advantages since they are a wonderful source of fiber, vitamin C, and antioxidants.
Fresh, delectable fruits and premium basil seeds are used to make the basil seed drink, which also contains strawberry juice. To guarantee the finest flavor and freshness, each product is manufactured following a traditional recipe in our modern manufacturing facility.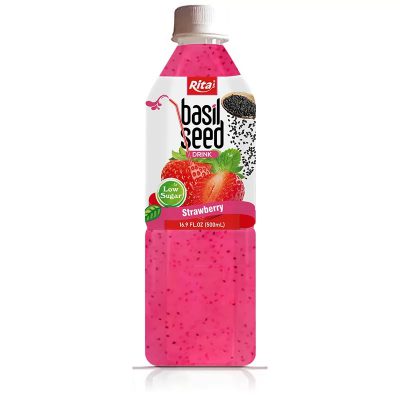 HEALTH BENEFITS
Basil Seed with Strawberry Flavor may offer a range of health benefits due to its nutritious ingredients. Here are some potential health benefits of basil seed
1. Rich in antioxidants
Strawberries are a rich source of antioxidants that may help protect cells from oxidative damage and reduce inflammation.
2. Good for digestion
Basil seeds are high in fiber, which can aid digestion and promote bowel regularity. They may also help reduce bloating and relieve constipation.
3. May help regulate blood sugar
Basil seeds contain compounds that may help regulate blood sugar levels, making them potentially beneficial for individuals with diabetes.
4. May promote weight loss
The high fiber content in basil seeds may help you feel fuller for longer periods, which may promote weight loss by reducing overall calorie intake.
5. May improve heart health
The antioxidants in strawberries and the fiber in basil seeds may help lower blood pressure, reduce inflammation, and improve cholesterol levels, all of which are important for heart health.
6. May boost immunity
Basil seeds are rich in vitamin C, which can help strengthen the immune system and protect against infections.
Overall, consuming basil seed drink may provide a range of health benefits, making it a nutritious and delicious addition to your diet.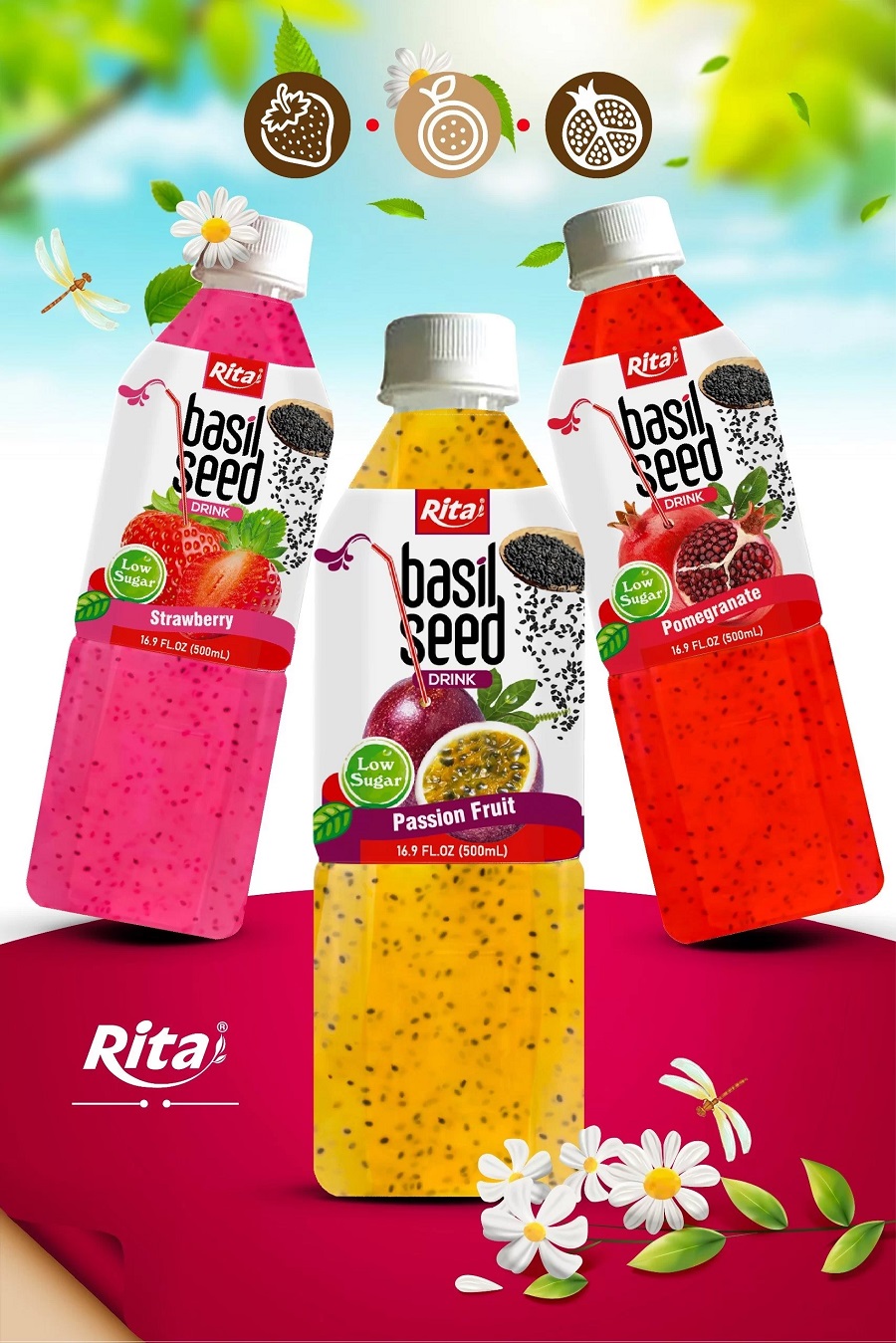 ALL BEVERAGE NATURAL FROM VIETNAM
We are Rita Food & Drink Co., Ltd. We bring you the fresh, healthy, Nutritional juice drink by applying creativity and innovation to natures bounty, since we are in the tropical region of Viet Nam. We produce 100% fresh fruit juice and are therefore healthier and more natural.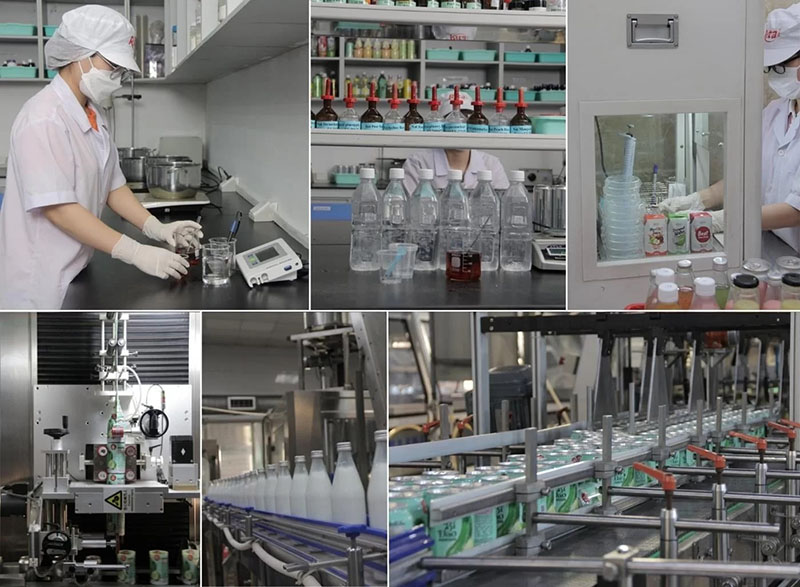 We can supply varies type of drinks (OEM/ODM) such as:
Fruit Juice : Peach juice, Grape juice, Orange juice, Mango juice, Watermelon juice, Apple juice, Blueberry juice, Strawberry juice …
Energy Drink : Red bull,Monster ,Energy drink with fruit juice , Energy drink with coffee , Energy drink with CO2, Vitamin C …
Coconut Water : Coconut with fruit juice, Coconut with milk, Coconut water pure, Coconut have Carbonated …
SoftDrink : Carbonated drink, Vitamin drink, Sport drink …
Aloe Vera Juice : Aloe Vera with fruit juice , Aloe Vera with milk , Aloe Vera have Carbonated …
Chia Seed , Basil Seed : Chia seed, Basil seed with fruit juice, Chia seed, Basil seed with aloe vera, Chia seed, Basil seed with milk…
Milk : Cashew milk, Milk with fruit juice,Walnut Milk , Coffee milk …
Tea Drinks : Honey tea, Tea with fruit juice , Kombucha tea, Ginger tea …
Coffee : Coffee latter, Coffee Cappuccino, Coffee mocha,Coffee caramel , Coffee with fruit juice , Coffee milk …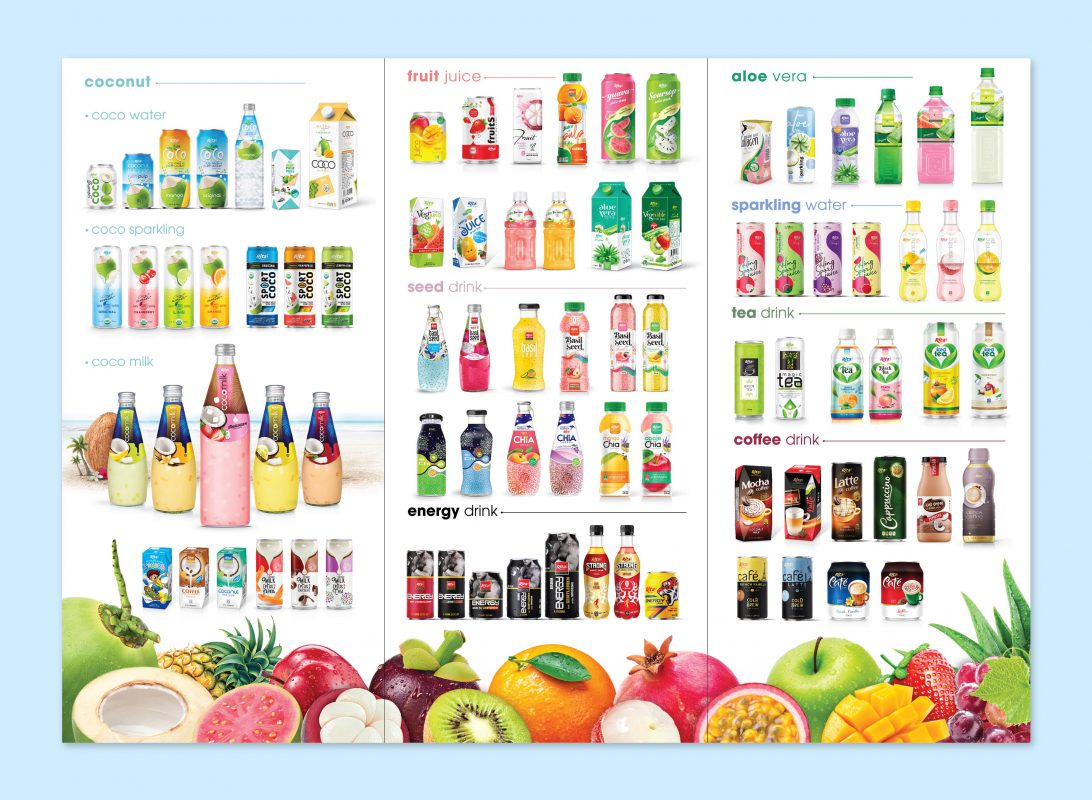 DISTRIBUTED ALL OVER THE WORLD:
With the comprehensive understanding in various ranges of Vietnam products and long-time experience in import-export sector, with our enthusiastic, determined team, we are proud to say that we have been shipping many Order to the USA, Canada, Europe, India , Pacific Island, Hong Kong, China , Singapore, Malaysia, Korea, Japan, Africa … Our customers are worldwide Dealer distribution, shops, restaurants , supermarkets …