Rita Food & Drink Co., Ltd
. was incorporated in 2004 as a 100% Foreign owned Company and specializes in the production of Beverage such as
Energy Drink
, Milk,
Aloe vera Juice
,
Fruit juice
, Soft Drink, Coffee, Beer, Tea Drink, Basil seed with juice, Chia seed drink,
coconut water
, Carbonated drink.....
Our factory, located in Song Than 2 Industrial Park with 30, 000 square meters, possesses the yearly producing capacity of 3,000,000 cartons of Drinks. And also, We have build up a strong research and development team, who is continuously improving our manufacturing process, quality standards of our products.
RITA now has become a famous brand in Vietnam and on sold at supermarket and international market. Work with us and enjoy the same benefits our repeat customers receive from us. We expect to cooperate with you through the forms of district agent, distributor, or OEM / ODM whatever could satisfy your demand
We are Leading Beverge Manufacturers from Vietnam

If you have any questions, please feel free to contact us, your best reply will be high appreciated.
RITA companies adhering to the "integrity, people-oriented"concept of development, market as a leader, to products as the main axis, in good faith as the fundamental business philosophy, with superb technical level, improve the quality assurance system.
We committed to providing people in line with the constitution of green food, in order to balance the people' s diet, strong national physique.Health-based,happy for the soul ,the responsibility for the day,and constantly research and development and production of RITA series of innovative fashion drinks to continue to meet the growing consumer demand. And strive to build the company into a public recognition, a sense of social responsibility of the enterprise. So far, the company has set up throughout the country, the total distribution and resident offices and other branches, in order to maintain a good stable trend, strict self-discipline, realistic and innovative, frank hospitality practical word.And strive to science, and quickly enhance the business philosophy,do the national brand,to one after another fashion,consumer satisfaction with the product group,among the forefront of the
Vietnames beverage industry
!
EXCELLENT
PRODUCTS
We are proud to bring to our customers healthy products with highest quality and greatest taste.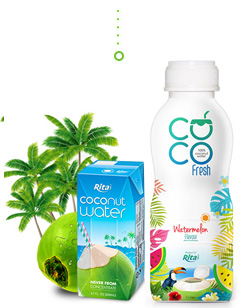 OUR RAW MATERIALS
SUPPLY
Our fruit are carefully chosen from the renowned farms tropical fruit of Vietnam - known for their high yield and high quality.
UNIVERSAL DISTRIBUTION
SYSTEM
Our products are present in over 50 nations worldwide.